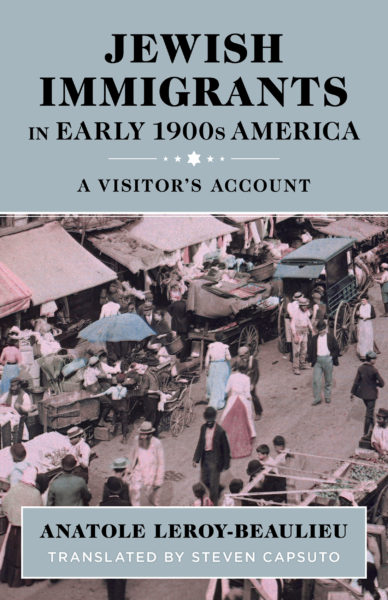 E-book: USD 2.99; Paperback with color and b/w images: USD 16.99
With more than 50 vintage photos
Millions of Jews came to the United States from the 1880s to 1920s, most of them fleeing poverty and persecution. As the U.S. Jewish population swelled from 250,000 to 4 million, they built new identities and strong communities for themselves.
From Jewish farming settlements to the Lower East Side, Anatole Leroy-Beaulieu describes American Jewish life as it was during his 1904 tour of the eastern states. "I had already visited most of the Jewish quarters in Europe, Asia and Africa," he explained. Now he longed to see how the refugees were faring in the New World. What he saw amazed and impressed him.
That autumn, he gave an enthusiastic, insightful talk in Paris, praising a "land of wonders and liberty" where long-oppressed Jews were thriving. It was published in French in 1905 as a booklet with no pictures. This new English translation adds dozens of vintage photographs and modern captions.
Visit the vibrant world of Jewish immigrants at the start of the last century: their community organizations and synagogues, schools and libraries, Yiddish newspapers and Yiddish theaters, labor unions and Zionist organizations.
About the Book
Sample screen from the Kindle edition: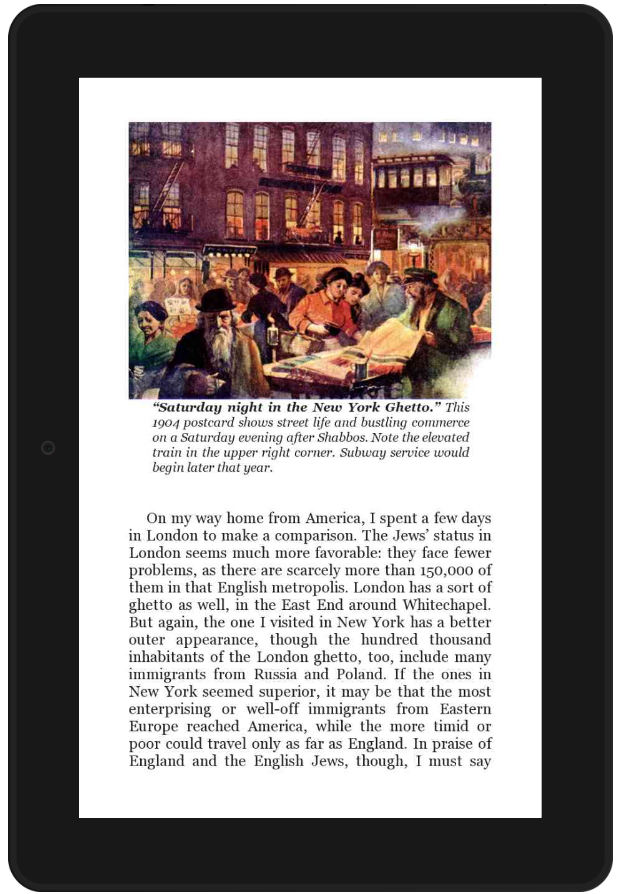 In 1904, a French political scientist—an expert on Russia and anti-Semitism—explored Jewish communities in the northeastern United States. This booklet contains the unreservedly celebratory speech he gave to the Jewish Studies Association in Paris when he got home, praising the opportunities that America offered Jewish refugees, and lauding the work American Jews had done to acclimatize throngs of immigrants.
Introducing his presentation, Anatole Leroy-Beaulieu said:
I am here today to bear witness to what I saw in America: surely one of the greatest, most striking and, I daresay, most marvelous spectacles to be found on American soil, in that land of wonders and liberty. With my own eyes, I saw thousands, hundreds of thousands of people, banished from the Old World, living in freedom across the ocean where they have found safety, dignity and often even prosperity—human beings who, less than fifteen or twenty years after arriving, have transformed themselves so completely that it is sometimes hard to recognize them. This astounding phenomenon reflects well on both America and the Jews. It took very few years for these Children of Israel, so recently persecuted, to make the most of American tolerance and the conditions in the New World.
This new English translation includes more than fifty vintage photographs and illustrations with new modern captions.