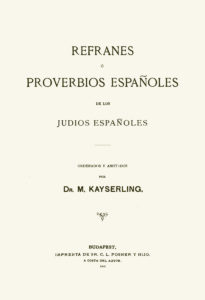 In 1889, Rabbi Meyer Kayserling published a short book of "Spanish Sayings or Proverbs of the Sephardic Jews." It contained Ladino versions of Spanish sayings that Sephardim continued to use for centuries after the expulsion. Some of the old maxims had fallen out of use in Spain but survived in the Jewish world, while others are still popular sayings in Spain. It also includes a short section of specifically Jewish proverbs.
Two years ago I translated excerpts of this, quoted in Ángel Pulido's 1904 book Sephardic Jews and the Spanish Language. Here are eighteen of the quoted sayings. The Ladino spellings are Rabbi Kayserling's. English translations ©2016, 2018 by Steven Capsuto.
---

He who sells the sun must buy candles.
Quien vende el sol, merca la candela.
A broken pot lasts longer than a whole one.
Mas tura un tiesto roto que uno sano.
If your enemy is an ant, make him a camel when you tell the story.
Si tu enemigo es una urmiga, contalo como un gamello.
If you love a rose, you must ignore the thorns.
Quien quere á la rosa, non mire al espino.
A person who has a quilt but won't use it deserves no pity.
Quien tiene colcha y no se cobija, no es de agedear.
Better a donkey that carries me than a horse that throws me.
Mas vale un asno que me lleva, que un caballo que me echa.
It is better to fall in a raging river than into gossiping mouths.
Mas vale caer en un rio furiente, que en la boca de la gente.