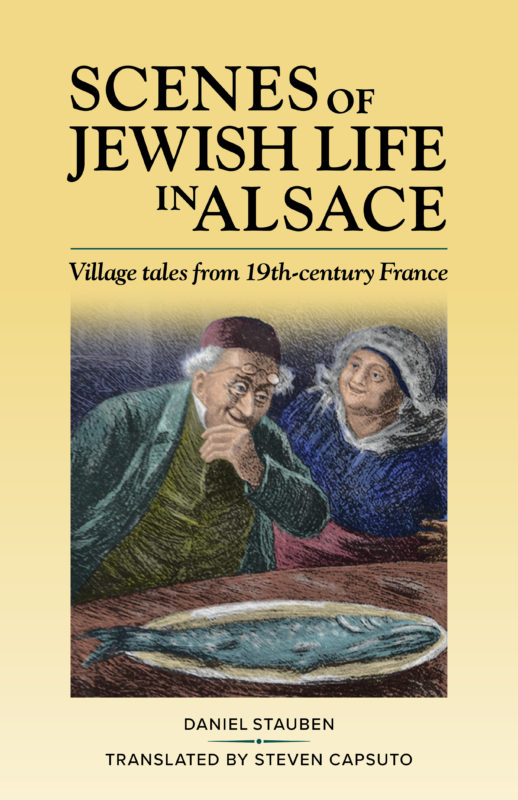 E-book: USD 6.99; Paperback: USD 11.99
Jewish Tales from the French Countryside

A Jewish writer in 1850s Paris returns to the Yiddish-speaking French village where he grew up, and writes lovingly about local Jewish life, personalities, customs and legends.

Meet Salomon and Yedele and their loved ones. Share their joys, foods, courtships, religious observances and holiday celebrations. Hear Alsatian storytellers spin tales of ghosts and sorcery, and of "wonder rabbis" who could banish demons and lift curses.

Originally published in French from 1849 to 1860, these delightful tales capture a very special Jewish world that was already disappearing quickly. [Note: The e-book edition has a different cover but identical content.]
More info →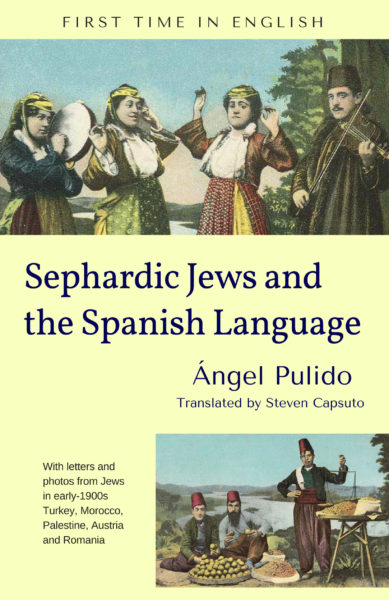 E-book: USD 7.99; Paperback: USD 14.99
With letters and photos from Jews in early-1900s Turkey, Morocco, Palestine, Austria and Romania
In 1903, four centuries after Spain expelled the Jews, a Spanish senator launched a campaign to have his country reopen relations with their descendants, the Sephardic Jews. To promote the campaign, he wrote this classic book, now available in a new annotated translation.
Eager to let Jews speak for themselves, he devoted a third of the book to photos and letters from Sephardim in different countries, in which they describe their communities, synagogues, schools, families, literature and aspirations
They also wrote to him about Ladino—the Judeo-Spanish language that many of them still used at home and in worship. The book documents Sephardic life at a turning point: the late nineteenth and early twentieth century, when many young Sephardim were starting to reject the Spanish language that their ancestors had passed down from generation to generation since 1492.
Senator Pulido's writings, lectures and organizing earned him the nickname "the Apostle of the Sephardic Jews." His books on this topic continue to be cited frequently by scholars of Sephardic history.
More info →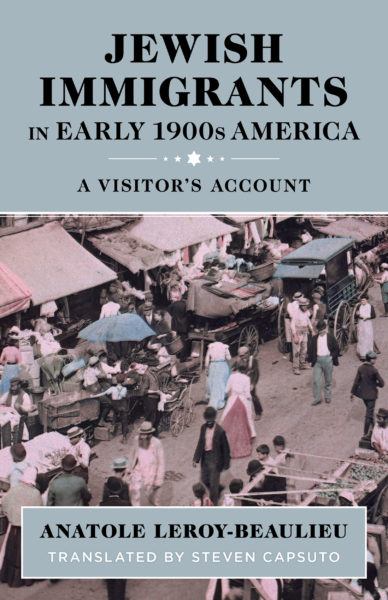 E-book: USD 2.99; Paperback with color and b/w images: USD 16.99
With more than 50 vintage photos
Millions of Jews came to the United States from the 1880s to 1920s, most of them fleeing poverty and persecution. As the U.S. Jewish population swelled from 250,000 to 4 million, they built new identities and strong communities for themselves.
From Jewish farming settlements to the Lower East Side, Anatole Leroy-Beaulieu describes American Jewish life as it was during his 1904 tour of the eastern states. "I had already visited most of the Jewish quarters in Europe, Asia and Africa," he explained. Now he longed to see how the refugees were faring in the New World. What he saw amazed and impressed him.
That autumn, he gave an enthusiastic, insightful talk in Paris, praising a "land of wonders and liberty" where long-oppressed Jews were thriving. It was published in French in 1905 as a booklet with no pictures. This new English translation adds dozens of vintage photographs and modern captions.
Visit the vibrant world of Jewish immigrants at the start of the last century: their community organizations and synagogues, schools and libraries, Yiddish newspapers and Yiddish theaters, labor unions and Zionist organizations.
More info →